Top Online Poker Rooms
Top PokerPros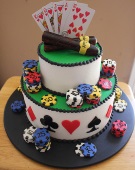 Top Strategy Articles
Poker Information
Play Online Poker
Poker for fun
Live or online, poker has taken gaming and entertainment by storm.
In online poker, poker rooms such as Full Tilt poker and Everest Poker provide a state-of-the-art software application with plenty of game variations and promotions to satisfy all kinds of players.
In live poker, tournament events have multiplied all over the world, bringing crowds of poker players and railbirds. The World Poker Tour is the leading organization organizing these tournaments.
The World Poker Tour
If you have been watching poker on the television, chances are you saw one of the World Poker Tour final table rediffusions. These make for excellent entertainment.
WPT TV shows display some of the best poker tournaments as these are some of the largest buy-in events, with buy-in ranging from $3,000 to $15,000, mostly around $10k. The first prizes are usually north of one million dollars. Clearly such sums of money attract the best poker players and the quality of poker of these final tables is second to none.
These shows are well produced and make the events highly entertaining, in particular because of the quality of the host commentators, Mike Sexton and Vince Van Patten. They also have some gorgeous sideline reporters interviewing the players, a non negligeable factor.
Mike Sexton himself is a poker player who has been inducted in the Poker Hall of Fame and has won one WSOP bracelet in the $1,500 Seven card split event. Even more outstanding are his 46 money finishes at the WSOP. It is hard to find a better host and his knowledge and passion for the game of poker make him a great commentator at the WPT.
Mike and Vince have been hosting the WPT on TV since the beginning and this pair is inseparable from the WPT in all poker fans' minds.
Online Poker
Of course, there is live poker, and there is also online poker. These are truly complementary forms of poker, and one could not be as popular as it is nowadays without the other. In online poker one of the leading poker room is full tilt poker. If you sign up there, make sure to use a full tilt rakeback deal for minimizing your rake.
The two forms of poker are really in symbiosis so to speak. For example, many entrants to the big buy-in live tournaments qualify from satellite tournaments run on the Web. This includes the WPT. If you qualify this way, it is almost a free poker tournament for you. On the other hand, you will see all the major online poker rooms advertize at these big live events. And only the best poker players excel at both forms of poker.
Full Tilt Poker's superstar Phil Ivey can dominate anyone, both live or online. This is pure skill. He is one of the best "well-rounded" player, i.e. he can play any poker variation from Limit Holdem Full Ring to Omaha High Low heads-up. And usually win.
Created in 2004, Full Tilt Poker is the second largest online poker room by traffic, but the first for its enjoyable software. Phil Ivey is arguably considered the best poker player in the world, so this is certainly a great advantage to have him at Full Tilt. They even named their high stakes's section "Ivey's room". But they have many other famous poker players in their stable, such as Patrik Antonius, Gus Hansen, Chris Ferguson, Karina Jett, Tom Dwan and many more.
If you have not yet opened an account at Full Tilt, they offer an attractive promotion to all new players. Using the Full Tilt referral code 600WOW, and will receive a 100% bonus matchup up to $600 when you sign up. Alternatively Bodog Poker is a good room allowing US players, as well as Doyles' Room and Cake Poker.
Note that since April 2011 real money players from the USA are not allowed at Full Tilt Poker or Doyle's Room, but Cake Poker and Bodog srill welcome you if you leave in America. This is a sad turn of events for the poker community and we can only hope that freedom of play is reestablished as soon as possible in America.
If you are looking for good poker tips or for the best poker sites, then look no further than our site hosterpoker.com where you will find great poker bonuses to play Texas Hold'em poker.
Come to online casino king and play some of the best online casino games going, they will have all the games to match your desires, come now! Blackjack, roulette or online craps, you name it and they have it.