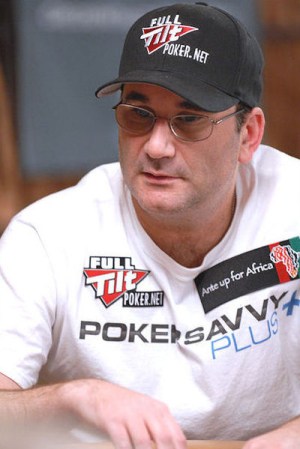 There are not too many players who haven't heard of Mike "the mouth" Matusow.
There probably aren't too many players that haven't actually heard Mike speak either. While he is known for his trash talking attitude, he is in fact a very skilled poker player.
Mike currently resides in Henderson, Nevada not too far from his home town of Las Vegas, Nevada. Mike Matusow is a skilled no limit hold'em and Omaha poker player and has won over seven million dollars in major tournaments because of his skill in these games.
Mike wasn't always a professional poker player, but his career didn't start too far from it. Just before Mike became a professional poker player, he was a dealer at a casino. Mike Matusow took the time he spent at the tables and watched every move like the float that players make and this is how he fine tuned his own skills at the game.
Now Mike is one of the top poker players in the world.
Mike Matusow and the World Series of Poker
In 1998 Matusow paid for a portion of Scotty Nguyen's entry into a satellite event in which he won. Scotty then paid Mike $333,333, his portion for the stake into the event.
This was just the start for Matusow. In 2001 he finished 6th in the WSOP $10,000 no limit hold'em main event.
Then in 2002 Mike won almost $150,000 in the $5,000 Omaha hi/lo split 8 or better. In 2005 he placed 9th out of a huge field and won $1,000,000. A couple months later at the Tournament of Champions he won another $1,000,000 in heads up against Hoyt Corkins. This made him the only poker player to win 2 $1,000,000+ prizes in one year.
He then took 3rd place the next year at the tournament of champions which earned him another $250,000 to add to his winnings.
Mike Matusow Poker
Mike has also placed 3rd in the Ultimate Bet Aruba Classic winning $250,000. Mike has appeared in a few late night poker shows like Poker After Dark where he took down a 2nd and 3rd place victory. Mike got 2nd in the Bad Boys of Poker tournament and also made it to the "Elite Eight" in the Poker Superstars III event.
He has also been seen quite a bit playing Omaha and Texas Hold'em at many different online poker rooms. He plays at UltimateBet, PokerStars, and Full Tilt Poker. You can sign up to any of these rooms and check Mike out on the tables.
He is really a feat in the poker world and an incredible poker player.
Mike Matusow Now
Right now Mike is probably sitting in the living room of his huge house talking a mile a minute to someone. Matusow has been seen out and about, but is mainly a homebody now. It is certain that his career in poker is far from over, but he is sitting in the backgrounds for the moment. And he is a sponsored pro at Full Tilt Poker.
If you have not yet opened an account at Full Tilt, they offer an attractive promotion to all new players. Using the Full Tilt referral code 600WOW, and will receive a 100% bonus matchup up to $600 when you sign up.
If you already have an account at FT, try Bodog Poker, a great room allowing US players, as well as Doyles' Room and Cake Poker. All allow American players.