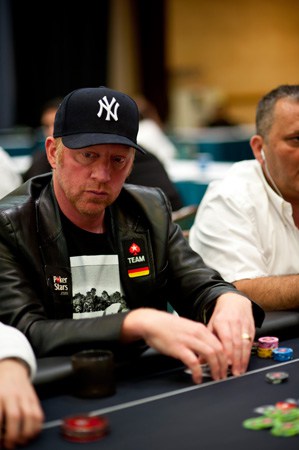 Boris Becker first made a name for himself on the green courts by playing tennis and has since then moved on to the green felt tables of poker where he is constantly proving his mettle.
Becker once played poker as a hobby between tennis matches since it helped him to focus. Today Becker can be seen competing with some of the biggest names in poker and walking away with good chip stacks as well.
Becker has a huge fan base on account of his celebrity sports persona and is slowly acquiring a set of poker fans as well. Not just in Germany where he is the lead spokesperson for PokerStars, but in many other countries too.
Although Becker has no poker titles and championships to his name, he has featured in several European Poker Tour events and has finished the money quite a few times.
He took in $40,855 when he came in at 40th place in the Five Star World Poker Classic and also won $18,672 in the EPT Grand Final preliminary round.
Using the name "Boris Becker", this tennis star and poker player can be found online at PokerStars, for which he is an ambassador. Becker has had three cash-ins so far and has accumulated a total of $57,970 in poker winnings. All of his winnings have come from playing No Limit Hold'em games.
Born in 1967, Boris Becker was playing poker by the time he was in his teenage years along with tennis. It was only in 2007 that Becker made a foray into professional poker and has participated win many poker tournaments all over the world. Becker is known to be highly competitive and is very interesting to watch at a poker table.
As a matter of fact Boris Becker is not the only professional poker player who has moved to professional poker. One of the top high stakes ring game player is Patrik Antonius who was not just a model before becoming a poker star, but also a pro tennis player. Of course not at the same level as Boris but pretty strong.
Patrik still plays tennis very well and it is a very bad idea to make a prop bet against his tennis skills. This is what learned poker player Matthew Parvis when he challenged Patrik to a prop bet on a tennis match: if he could beat Patrik he would win $295,000, but if he lost we would only pay $30,000. These were great 10:1 odds, but the score 6-0 6-1 spoke for itself.
Another tennis pro who is also a colleague of Patrik Antonius at Full Tilt Poker is David Benyamine. He had a promising tennis career that he had to interrupt due to an injury and he found poker as an outlet for his competitive spirit
Finally Doyle Bruson was a strong athlete too. Not a tennis player but a baskelball player, he too had to abandon his favorite sport after an injury.
So let's see what the future reserves for Boris Becker as a poker player.
Back to hosterpoker home page. Alternatively read the Bodog Poker Review.
If you have not yet opened an account at Full Tilt Poker, they offer an juicy promotion to all players who decide to open an account. Using the Full Tilt referral code 600WOW yoou will receive a 100% bonus matchup up to $600 when you sign up and make your first deposit. Alternatively Bodog Poker is a great poker room still allowing U.S. players, as well as Doyles' Room and Cake Poker. Make your pick.